Xavi is "satisfied that we have come out of the worst stages in Barcelona's history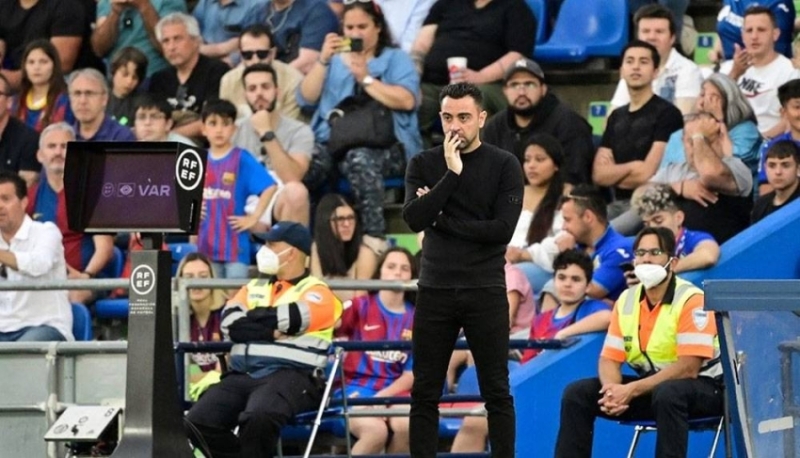 Despite ending the Spanish Football League with a 0-2 loss at home to Villarreal, Barcelona coach Xavi Hernandez was satisfied with what happened at the end of the season, with the Catalan club taking the runner-up even if it was 13 points behind rivals Real Madrid crowned the title.
Some may despise this surrendering stance from the 2010 World Cup champion, but what was issued by the former star of "Blaugrana" is in place if the club's fans go back in time to early November, when the team was in ninth place led by Dutchman Ronald Koeman.
The team's situation has improved a lot since the previous coach of Al-Sadd took over the task of supervising the team, which starred in its ranks as a player and crowned with him all the major titles, including eight in the Spanish League, four in the Champions League, two in the Club World Cup and three in the local cup.
It is true that the 42-year-old could not spare the Catalan team from the group stage of the Champions League and then from the quarter-finals of the European League "Europe League" or retain its title as the local cup champion, but his leadership to the league qualifier and with it the guarantee of participation in the Champions League is considered An achievement for a squad that was greatly weakened after losing its absolute star, Argentine Lionel, to Paris Saint-Germain.
After the marginal loss to Villarreal on Sunday, Xavi said, "The season has been very long for us. We did not finish things well, but we achieved our goals and finished second."
And he continued, "Now, we have finished football and we will start administrative work," referring to the work to strengthen the team for next season, with talk about the settlement of the contract with the Danish defender of Chelsea, Andreas Christensen, after he had previously concluded the contract with Ivory Coast midfielder Frank Kessier as a player. Also free after the expiry of his contract with AC Milan.
There is talk of his quest to include two players also from Chelsea, two of his compatriots, defenders Cesar Aspilicueta and Marcos Alonso, and the French defender of his local rivals Seville, Jules Conde, while Polish striker Robert Lewandowski will be the biggest deal ever if it takes place after the latter decided not to continue the journey with Bayern Munich.
Xavi spoke about the need to "change a lot of things in order to try to be competitive and be able to compete for titles. We cannot go another season without titles."
"But we must remain optimistic: we saved an almost disastrous season. On a personal level, I am satisfied that we have come out of the worst stages in the club's history," he stressed.
.