Victory with professionalism and skill … tops the fore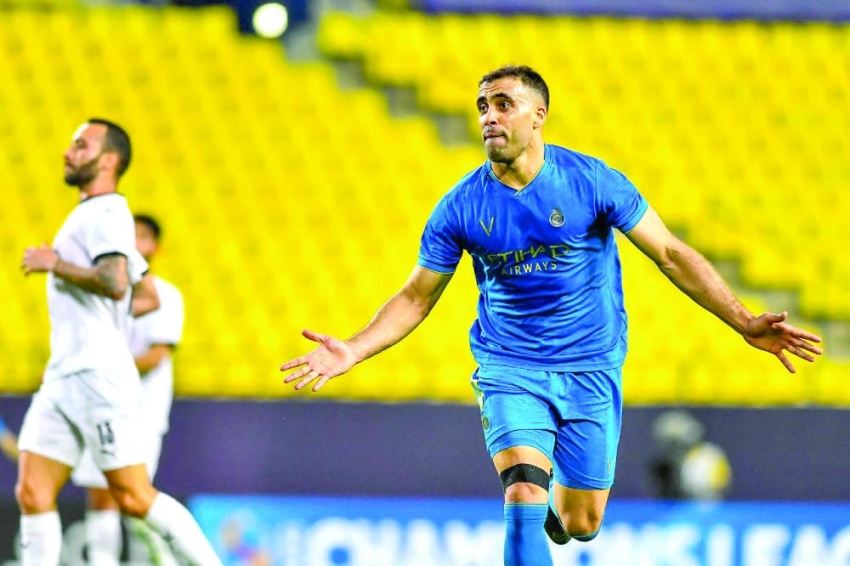 Al-Nasr team qualified for the round of 16 and the top of its fourth group, after its deserved victory over Qatar's Al Sadd 2-1 in the meeting that brought them together at Marsool Park Stadium and within the sixth and final round, to raise the global tally to 11 points in first place, then Al Sadd second with 10 points and awaits his fate after Other group matches have ended.
Al-Nasr team presented a distinguished level due to the style of play that its coach adopted Menzies through high pressure on the goalkeeper and Al-Sadd defenders to not allow them to build the attack and try to exploit the lapses that may occur, and Al-Nassr was distinguished by the closeness of the ranks and playing with high spirit.
On the other hand, the dam was disgraced by the presence of spaces in the middle of the stadium and between the axis and the defenders, which caused them to lose many balls, and Cazorla was isolated from the attacking duo Baghdad Bungah and Hassan Al-Haydos, in addition to the left-back Abdul Karim Hassan's sufficiency in playing defensive roles so that Al-Sadd lost one of its offensive weapons.
Under the Nazarene control, the team got a number of chances, starting from Hamdallah's header over the crossbar, and with pressure and control, Hamdallah was able to open the scoring after exploiting a fatal mistake from Al Sadd goalkeeper Meshaal Barshim, who slipped while shooting the ball to Hamdallah and placed it in the goal d. 33).
Walid Abdullah passed a quick ball to Amrabet, who started from the middle of the field in a counterattack until he reached the penalty area and passed it, thank God, and in turn, directed it next to the post, wasting the most dangerous match chances.
On the other hand, Al Sadd had only one chance, Bounjah alone, but Walid excelled in tackling his ball.
In the second half, the wonderful Nasraoui performance continued, and he managed to tighten his control over the maneuvering area, and the players made great efforts and were distinguished by the convergence of the lines, in contrast, Al Sadd's performance improved relatively with the substitutions made by his coach Xavi.
And the brilliant Abdul Ilah Al-Omari took advantage of an Amrabat cross and put it with his head in the net, scoring the second goal, d (74).
Al-Sadd sought to reduce the score, which was achieved through a penalty kick by Cazorla D. (83).