Tomorrow is the start of the second round of "Excellent Volleyball"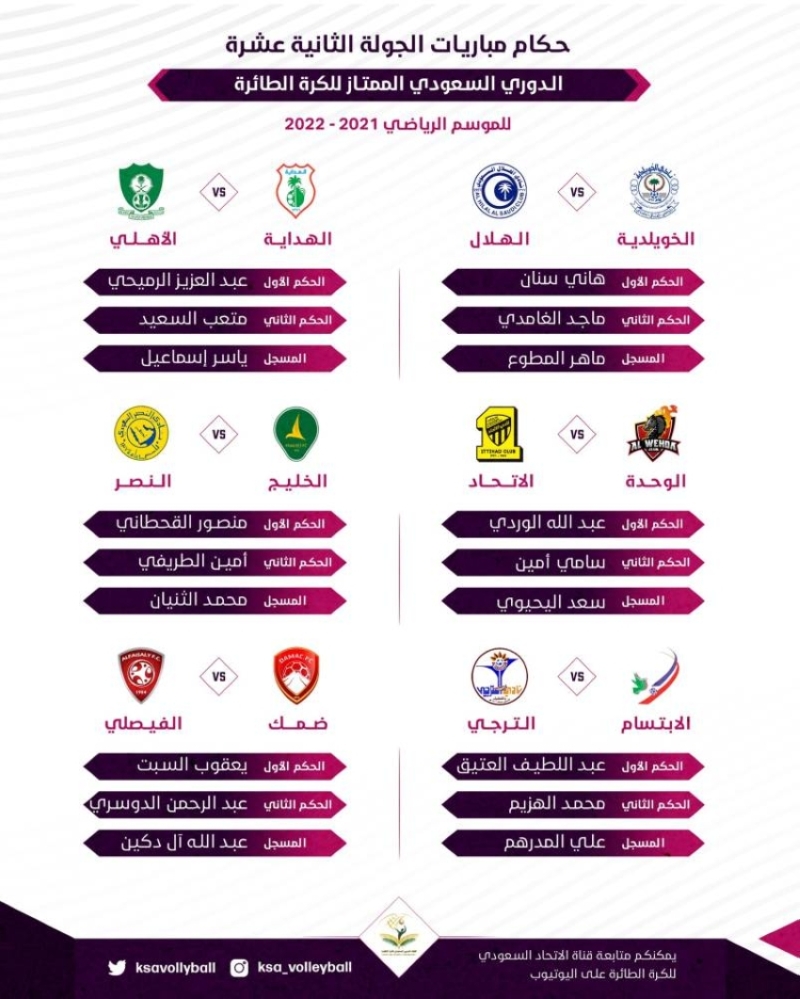 The second round of the Volleyball Premier League will start tomorrow, after a pause that lasted for nearly a month after the postponement of the third Gulf Games in Kuwait, which was scheduled to take place during the period from 11 to 21 January, where the events of the 13th round will witness the establishment of 6 meetings on as follows:
In Dammam, Al-Hilal will be a guest of Al-Khuwaildia at 2:00 pm, in a meeting held at the Al-Nahda Club hall, through which Al-Hilal seeks to pursue the top teams in the league after the period of stopping and rearrange its ranks, while Al-Khuwaildia hopes to move away from the last positions in the league ladder, and enter Al-Khuwaildia The match is in 11th place with 9 points, and Al Hilal is in third place with 24 points.
On the Al-Ittifaq Club hall in Dammam, Al-Hidaya will host Al-Ahly's general ranking leader at 3:00 pm, as Al-Hidaya is looking forward to achieving the surprise and kidnapping the points of its guest Al-Ahly.
In Khamis Mushait, Damak is looking to continue victories and achieve a new surprise at the expense of his guest, Al-Faisaly, the runner-up of the league, in the meeting that takes place at 3:30 pm in the Damak club hall. 27 points.
In Makkah Al-Mukarramah, Al-Wehda team will host its counterpart Al-Ittihad in the equal opportunities meeting, which will be held at the Al-Wahda club hall at 4:00 pm.
In Saihat, the Gulf club is looking forward to overcoming its guest Al-Nasr and achieving three important points, while Al-Nasr hopes to move away from the last place in the league ladder during the confrontation that it gathers at the Gulf Club Hall in Saihat at 5 pm, and the Gulf enters the meeting while it is in the eighth place with 12 points, while Al-Nasr occupies the twelfth place with 8 points.
In the same hall, the excitement will be present during the confrontation that brings together Al-Ibtisam with Esperance at 7:00, as both are looking for victory and progress in the league standings. Al-Ebtisam enters the meeting while he is in the tenth place with 9 points, while Esperance occupies fourth place with 18 points.
.