Sponsored by Khalid Al-Faisal Verstappen crowned the Saudi Grand Prix
The Governor of Makkah Region, His Royal Highness Prince Khaled Al-Faisal, sponsored the Formula 1 Saudi Grand Prix, which concluded yesterday at the Jeddah Corniche circuit.
Meanwhile, the Minister of Sports, His Royal Highness Prince Abdulaziz bin Turki Al-Faisal, driver of the Red Bull Verstappen team, won first place, after a very strong and exciting race, in which three drivers rotated. Leclerc took the lead to three laps before the end, as the Red Bull driver Verstappen managed to overtake him and fly to the lead and win the race, while Leclerc finished third, and Ferrari's Carlos Sainz came third.
The race witnessed a number of minor accidents, as the yellow flag was raised after Albon's car stopped after contact with Petrol, in addition to the withdrawal of some drivers such as Alonso, Ricardo and Bottas.
While the Haas team driver Mick Schumacher missed the race due to a violent accident at Turn 12 during the second quarter of qualifying yesterday, Saturday, he was transferred to King Fahd Armed Forces Hospital in Jeddah for precautionary checks, and then left the hospital a few hours later. .
Porsche Middle East Challenge
Saudi driver Bandar Alesayi won the second race of the Porsche Middle East Challenge for the GT3 category, beating Dutch driver Thierry Vermeulen, who finished second, and Britain's Harry King third, while Saudi rider Fahad Al-Qusaibi came fourth, and German Ghislaine Cordel fifth. In the GT4 category, Saudi drivers Khalid Al-Ahmadi and Saud bin Mutasim Al Saud took first and second places, while Finnish driver Florian Janets came third, Dutchman Christian Frankenhout fourth and Bahraini Jaber Al-Khalifa fifth. The two races were held in the afternoon and before the start of the Formula 1 race. As for the Formula 2 race, the driver Felipe Drogovic won the first place.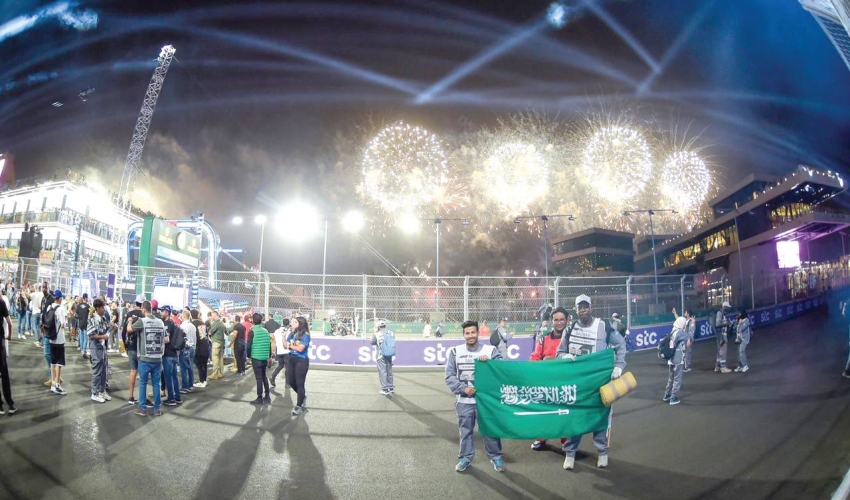 .