Spain goalkeeper Simon was 'tortured' by mistake against Croatia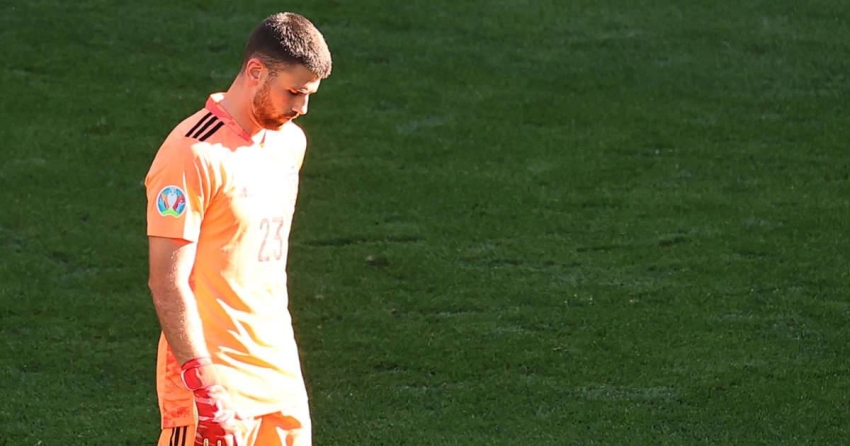 Spain goalkeeper Unai Simon said that he went through a stage of torture while trying to comprehend the fatal mistake he made against Croatia, but expressed his gratitude to his teammates, including goalkeeper David de Gea, for raising his morale.
Simon, who snatched Spain's starting position from De Gea last year, let the ball slip under his foot after teammate Pedri's back pass from nearly midfield to give Croatia a 1-0 lead in an epic Round of 16 match that ended with Spain winning 5-3 after extra time in the round. 16th European Cup 2020.
Simon told a news conference: "It tormented me a little bit and honestly I watched the clip six or seven times and I can't explain what happened. I just controlled badly."
He added: "People ask if the sun's rays are in my eyes, but this did not happen, and I had a great distance to control the ball, and I wanted to play it, but my feet stopped."
He continued, "I don't know how many times I have tried to control the ball in my life, but the ball has never passed like this before. It was an accident, but sometimes it is easy to recover."
Simon recovered after saving two crucial chances later in the match and Spain recovered from the shock of Croatia scoring two late goals to move the confrontation to extra time and Spain qualified for the quarter-finals to face Switzerland.
Manchester United goalkeeper De Gea is aware of the pressure under criticism due to his level with Spain, so he went to Simon at halftime to support him.
Simon explained: "He tried to calm me down and helped me a lot with his support and encouragement, and when a goalkeeper like him comes and says that, I can only improve and keep going again.
He concluded: "I am proud to be part of the team and the way the players have supported me on the field and in the dressing room means a lot about what kind of group this is."
The Spanish team will face in the quarter-finals of the continental championship on the grounds of the Petersburg World Cup stadium on the 2nd of next July, its Swiss counterpart, who qualified at the expense of the French team on penalties 5-4.