Outstanding performance for "Green" despite the loss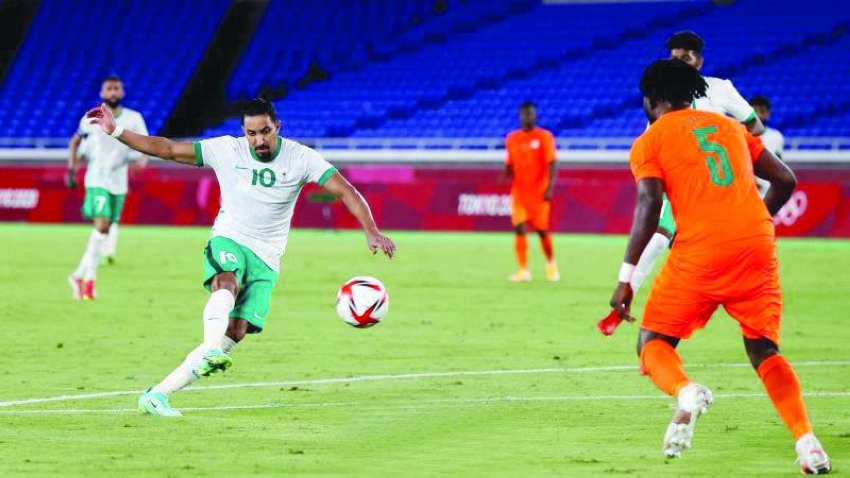 The Olympic Green presented a relatively distinguished performance, despite losing 1-2 against its counterpart Ivory Coast in the opening matches of the Tokyo Olympics, in the confrontation hosted by Nissan Stadium, in the first stage in the fourth group competitions of the football competition, and Ayman Yahya had an early opportunity in the first half when he shot A strong ball from outside the penalty area, but it hit defender Eric Bailly.
Al-Akhdar continued his attack, and there was a dangerous opportunity for striker Abdullah Al-Hamdan, who received a pass from his colleague Yasser Al-Shahrani, but he failed to convert it into the net, and it was the first real threat on goal for the national team, when Sami Al-Najei surprised the Ivorian goalkeeper Tabih in the 30th minute, with a shot from outside the penalty area. Her last, tiptoed the ball from under the crossbar to a corner kick.
friendly fire
And in the 39th minute, Ivory Coast managed to open the scoring through defender Abdelilah Al-Omari, who crossed Kwame's cross by mistake in the net of goalkeeper Mohamed Al-Rubaie.
Al-Akhdar maintained its cohesion, and succeeded in adjusting the result quickly in the 44th minute, when Salem Al-Dosari received the ball from outside the penalty area, and shot hard, so that his ball entered the upper left corner of the Ivorian goalkeeper, so that the first half ended with the two teams tied (1-1).
The second goal of Côte d'Ivoire
In the second half, the preference for the Ivory Coast team tended, whose player Frank Kessie managed to score the second goal at the 65th minute when he received a pass from his colleague Amade Traore to face the goal and hit the ball past goalkeeper Mohamed Al-Rubaie.
And in the 80th minute, Mohamed El Yami saved his goal from a third Ivorian goal, when he saved in time for Diallo's dangerous cross.
Al-Dossary's chance
Al-Akhdar tried to return quickly and a dangerous opportunity came to the player Salem Al-Dosari, who received a pass inside the penalty area from his colleague Ayman Al-Khalif to hit the ball strong, but it hit the crossbar. Failed to turn it into the net.
In the last seconds of the match, the referee issued the red card to Cote d'Ivoire player Aboubaker Doubia and the yellow card to Salman Al-Faraj after a clash between the players.