French Nasser Larquette, technical director of the Saudi Federation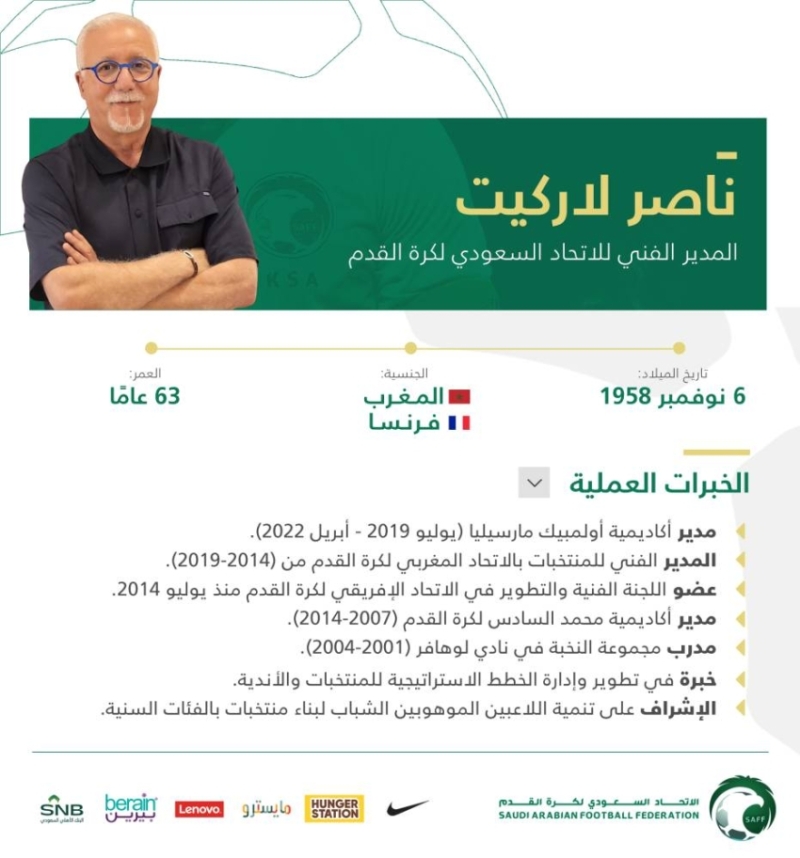 The Saudi Football Association decided to appoint the French, Nasser Larquette, as the technical director of the Saudi Federation, to succeed the Romanian Iwan Luescu, thanking the Romanian for the period he spent as the technical director of the federation and wishing him success in his next step.
Larquette, 63, of Moroccan origin, has great experience in supervising national teams and developing strategic plans for their development, as he previously held the position of technical director of the Moroccan Football Association during the period from 2014-2019.
Nasser Larquette worked during his training career in a number of French club academies from 1989-2007, most notably Cannes, Rouen, SM Caen, Le Havre and RC Strasbourg. 2022, and has been a member of the Technical and Development Committee of the Confederation of African Football since July 2014.
Larquette is scheduled to undertake a number of tasks, including developing strategic plans for the Sunni national teams, developing and qualifying national coaches, supervising regional training centers to contribute to discovering football talent, and activating international partnerships to serve the development of football in the Kingdom.
.