"Football Association": Granting the Saudi Sports Company broadcast rights for the next season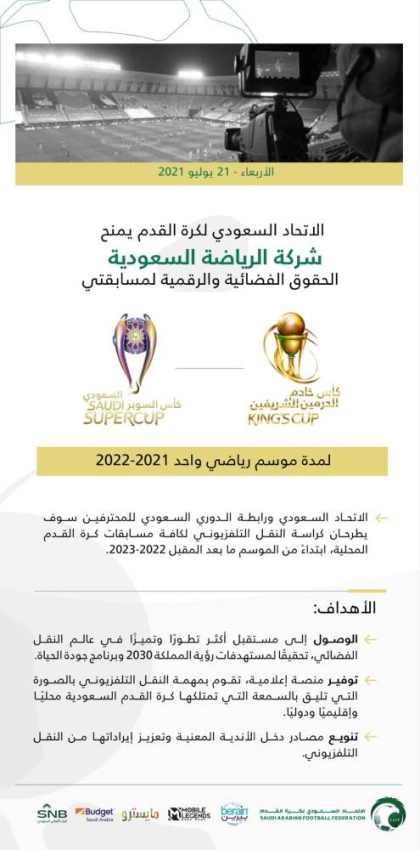 The Saudi Professional League and the Saudi Football Federation announced the granting of the Saudi Sports Company the satellite and digital rights to the Saudi sports competitions (Custodian of the Two Holy Mosques Cup – Prince Mohammed bin Salman Professional Cup League – Saudi Super Cup) for the next sports season 2021-2022 AD, and for a period of one sports season .
Under this agreement, the company will manage the television content of local football competitions, and transmit matches via satellite and digital for the upcoming sports season 2021-2022 AD, according to what Saudi football fans from inside and outside the Kingdom aspire to.
On the other hand, the Saudi Football Association, in cooperation with the Saudi Professional League, and with a desire to develop aspects of television transmission for Saudi competitions in the coming years, will, during the coming period, launch a brochure for television transmission rights for local soccer competitions, starting from the season after Next year 2022-2023 AD, in front of the satellite channels that wish to do so.
This step comes from the desire of the Federation and the League to provide a media platform that performs the task of television transmission in a manner that befits the reputation that Saudi football possesses locally, regionally and internationally, and in the manner that the honorable sports audience aspires to, in addition to diversifying the income sources of the concerned clubs and enhancing their revenues from television transmission To reach a more advanced and distinguished future in the world of teleportation, in order to achieve the objectives of the Kingdom's Vision 2030 and the Quality of Life Program.