De Bruyne is extending his contract until 2025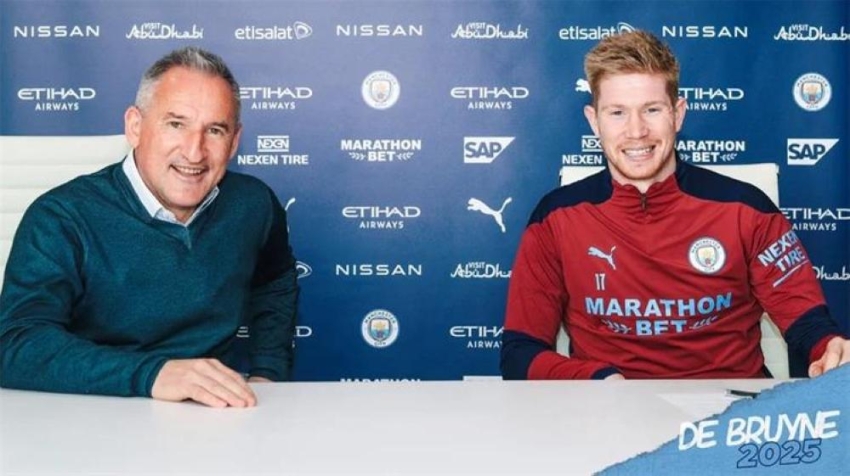 Premier League leaders Manchester City announced on Wednesday that Belgian playmaker Kevin De Bruyne has extended his contract to stay at Etihad Stadium until 2025.
"I couldn't be happier," said De Bruyne, who has won two Premier League titles with City alongside the FA Cup, four League Cup titles and the PFA Player of the Year award in 2020 since joining from Wolfsburg in 2015.
The Belgian star added in a statement, "Since joining City, I feel at home and love the fans, and my family has settled here in Manchester and my performance has developed really well … This club is oriented to success and provides me everything I need to make the utmost effort, so the extension of the contract was a simple decision. My career and I feel I can do more, "according to Reuters.
Related news
Decisive night for Manchester City on the way to the foursome
Infographic .. A decisive night for Manchester City on the way to the Quartet
"Pep Guardiola and I see football in the same way, and it is very important to maintain this relationship because our goals are completely united and we want the same things," he added.
"This club is designed for success. It provides me with everything I need to maximize my performance, so signing this contract was a straightforward decision. I play the best football of my career and I honestly feel that there is more to come … My focus is now on ensuring that the season ends," he said. The current success. We have performed well and achieved outstanding results so far, but we need to make sure that we finish the season with the titles we deserve, "according to the club's website.
"This is a very important moment for the club," said football director Czech Begirstein, about De Bruyne extending his contract.
He added, "Kevin is without doubt one of the best players in world football. His performance has been remarkably stable since his arrival in City, and in the past few years he has grown into one of the elite players in the world."
"There is no doubt about his talent, but he is also an accomplished professional, as his dedication to Manchester City during his time here has been extraordinary. He is constantly striving to improve, and his approach is the perfect blueprint for any young player looking to pursue a professional career .. We are happy that he is Our player and I look forward to seeing him in the coming years here in Manchester City. "
It is worth noting that De Bruyne has played 255 games with Manchester City in all competitions, scored 65 goals and provided 105 assists.