Blink Experience is an official supporter of the 2022 stc Formula 1 Saudi Grand Prix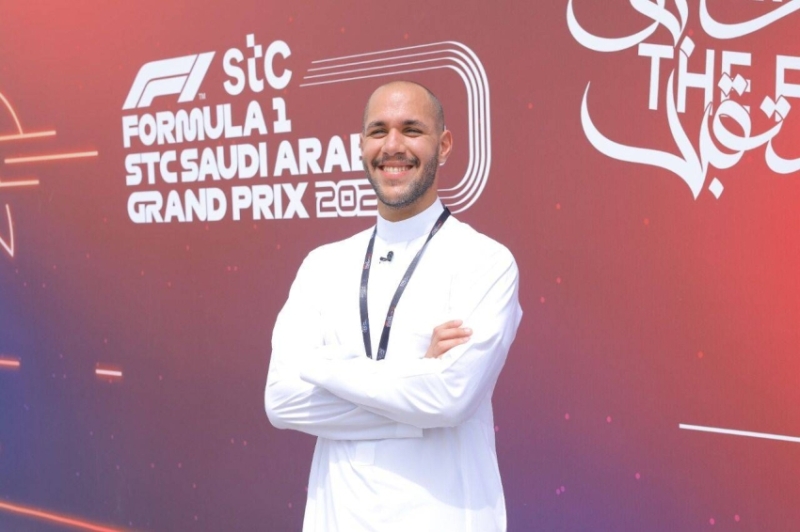 In preparation for the return of the roar of Formula 1 engines to the Jeddah Corniche circuit, at the stc Formula 1 Saudi Grand Prix 2022, the Saudi Motorsports Company has partnered with Blink Experience, the leader in innovation and excellence in the implementation of events in the region, to become an official supporter For the event, after their successful partnership in the first-ever Formula 1 race in Saudi Arabia last December, which was enjoyed by more than 140,000 people at the Jeddah Corniche circuit, and was watched by more than 80 million people around the world.
Only three months after the first race, the excitement and suspense return to the Jeddah Corniche Circuit, the longest and fastest street circuit in the world, where the best drivers in the world race under the floodlights on the 27-turn circuit at breakneck speeds exceeding 252 km/h.
It is noteworthy that "Blink Experience" is the center of creative and innovative experiences that enjoy global relations and links, and proudly provide its clients with integrated and innovative service solutions, and since its launch from its humble local roots in 2003, it has continued its creativity and commitment to expand its network and service offerings throughout the region , to provide integrated services for sports events, motorsports events, marketing activities, festivals, and many other activities, and is keen to play a critical role in developing and nurturing Saudi talents in accordance with the objectives of the Kingdom's Vision 2030.
As the preparations for this major global event continue, the young Saudi, Faris Nuwailati, director of operations for the Saudi Grand Prix site at Blink Experience, spoke about the latest preparations before the start of the event during the period from 25 to 27 March, and his experience working in the field of organizing Events in Saudi Arabia
In a question to Faris Noelati, Operations Manager of the Saudi Grand Prix website at Blink Experience, how was his experience in the field of organizing sports and entertainment events? How did it start?
He said: I started working in this field in the year 2019 Blink Experience, during the Diriyah season, and that was the first event that I participated in, as I worked in production and operations, and it was a completely new and exciting experience for me, as I worked for a short period in the field of marketing as I hold my degree In marketing, but I did not last long in this field and moved to the field of events, a field that was very new at the time and did not attract many young Saudis. The events at that time were very simple and were not that big like seasons and so on, even motorsports events were completely new, so the start of the Diriyah season was and then I worked in Formula E, and then the Dakar Rally, Formula 1 and other major events.
As a young Saudi, how would you describe the change that the kingdom witnessed before 2019 and beyond?
There was a noticeable change in the quality of life, as the arrival of all these major events contributed to shedding more light on things that we did not see except on television and did not actually watch, such as concerts and international sports stars who visit the Kingdom, where we had the opportunity to see them on The truth is, and here I can say that this has contributed to enhancing the standards of quality of life, especially for the Saudis, who needed to be more open to these things.
All of these activities are the fruit of the Kingdom's vision 2030.. From your point of view, a young Saudi man, what is the benefit that you get from Vision 2030?
The Kingdom's Vision 2030 entails developing a vibrant society for an ambitious nation and enhancing the Kingdom's openness to the outside world, and its objectives play an active and prominent role in the process of change witnessed by the Kingdom, whether directly such as opening the way for new sectors and areas of growth, or indirectly by providing opportunities New opportunities for Saudis and inspiring Saudi youth to open up their horizons and openness to the world. Perhaps the sector of events and opportunities that it provides is one of the fruits we reap through commitment to achieving this vision. Here, Blink Experience opened the way for me and many young Saudi women and men to gain experience and discover a new world in the world. Events.
Speaking of motor sport events such as Formula 1 or the Dakar Rally, people may think that Saudi youth working in Formula 1 must be an engineer or driver, but in fact about 50% of the work teams that organize and manage these events are Saudi youth. .. How do you feel as a young Saudi working in a global event like Formula 1?
It was a dream come true for me…. I always wished to work and have my name associated with a big event like Formula 1, but I never imagined that would happen.. That was before 2019 but with the transformation that took place in these few years it became It is a tangible reality, and I am proud and proud of my name being associated with such a big event, and I am also proud of the many Saudi youth who work in the many fields offered by organizing such major international sporting events and I hope to see many of them in the same sport as drivers, engineers and team managers.
His Royal Highness Prince Mohammed bin Salman, the Crown Prince, said: "The vigor of the Saudis is like Tuwaiq Mountain, and it will not be broken unless this mountain is leveled to the ground"… How do you see yourself in the future in this field? And now, after 4 or 5 years of experience in the field of major events? What do you say to young Saudi graduates? How do they deal and learn from these activities?
With this determination, we have been able to achieve achievements
The important thing in this topic is the many challenges that they may face. In an event where hundreds of people work, you will deal with many people and you will face many challenges that will teach you a lot as you will have to search for solutions, which will contribute to the development of personal capabilities and capabilities and will enrich your experiences in life. And I always try, in Blink Express, with the help of everyone, to implement the saying of His Royal Highness that our mission is like Tuwaiq Mountain, and that we rejoice in achieving dreams.
You are one of the hundreds who worked to build the fastest street circuit in the world in a world record time of only 8 months at a time when international media doubted your ability to achieve it…. How do you feel about this matter?
Of course, I am very proud of our ability to achieve this feat and overcome the challenge of completing the construction of the circuit in only 8 months… I witnessed the construction of Miami Circuit, where they started building it a year ago, but our completion of the Jeddah Corniche Circuit in such a short time is a historic achievement that we are proud of, and proof of Our determination and ability to overcome any challenges or difficulties, and here we must mention how everyone from all the participating companies, including Blink Experience, did the impossible and united in order to achieve the dream and we were able to dazzle the world and confirm once again our ability to achieve the best results
You have worked in Formula 1, Formula E, the Dakar Rally and many local rally events and entertainment events… What event did you enjoy working on?
Formula 1… I am a Formula 1 fan and my feeling was indescribable when seeing the drivers and hearing the cars roaring… I didn't imagine that this could happen, my dream was to watch a Formula 1 race… and to see it for the first time, especially here in The kingdom was an incredible feeling.
Vision 2030 provides opportunities to realize dreams…. As a young Saudi, how do you seize these opportunities?
I was fortunate to work on such events, and I seek to benefit from all the knowledge and experiences that I gain from my participation in the future and harness them to create new opportunities that contribute to helping new generations…. I would like to thank our wise leadership for their vision, constant support and firm belief in the capabilities of Saudi youth, as well as I thank the Saudi Motorsports Company for providing these opportunities, and I look forward to the future and reaping the fruits of Vision 2030.
It is worth mentioning that Blink Experience hosts many trainees, after signing an agreement with a number of Saudi universities to support young Saudi men and women. Therefore, we had a meeting with Abdulaziz Mohammed Saleh Al-Bashishi, a graduate of King Abdulaziz University, working as a trainee at Blink Experience.
When did you start organizing events?
I started in the field of events with the launch of the first Formula 1 stc Saudi Grand Prix last December, and this time is the second event that I participate in organizing.
What experiences did you gain from working on the two races?
I gained a lot of experience at work during the first race. While this event was my first in the field of organizing events, I learned a lot of experiences that refined my abilities and benefited from them in working on the second race, especially from working with the organizers and organizers of the race.
Have we seen a lot of sports and entertainment events stemming from Vision 2030? How did these outcomes affect your life before 2018 and beyond?
Of course, we are proud of this vision, its outputs, and the progress made in the Kingdom under Vision 2030. It is something to be proud of. The field of events is a new field of work and one of the outputs of this vision, and it provides new and unexplored opportunities for young people, which is why I chose to work in this field.
In your opinion, how do you feel to watch all these events such as Formula 1, Formula E, the Dakar Rally and other major international events being held in the Kingdom?
All this calls for pride, pride in proving our ability to host such a large number of events that draw the world's attention towards the Kingdom and shed light on the march of progress and change taking place in the Kingdom, as well as embodying its high potential and the capabilities of its people.
As a newly graduated Saudi youth, and through your work with "Blink Experience"… What is the message you would like to send to Saudi youth about the support you find from working in the private sector in developing your abilities and skills?
My work with Blink Experience allowed me to participate in organizing major events in the Kingdom, which was a motivator for me to harness all my energies to honor my country and present events that translate its potential, as well as confirming my abilities as a Saudi young man who is proud of his belonging to this country and seeks to raise its value and prestige.
Also, this work contributed to enhancing my skills and was a tributary to developing my capabilities. During the work I deal with many people of different nationalities, where I benefit from their experiences and knowledge to develop my capabilities and then transfer this knowledge and expertise to the next generations, which is beneficial to the Kingdom and its people.
.