Barcelona continues to stumble with a draw against Cadiz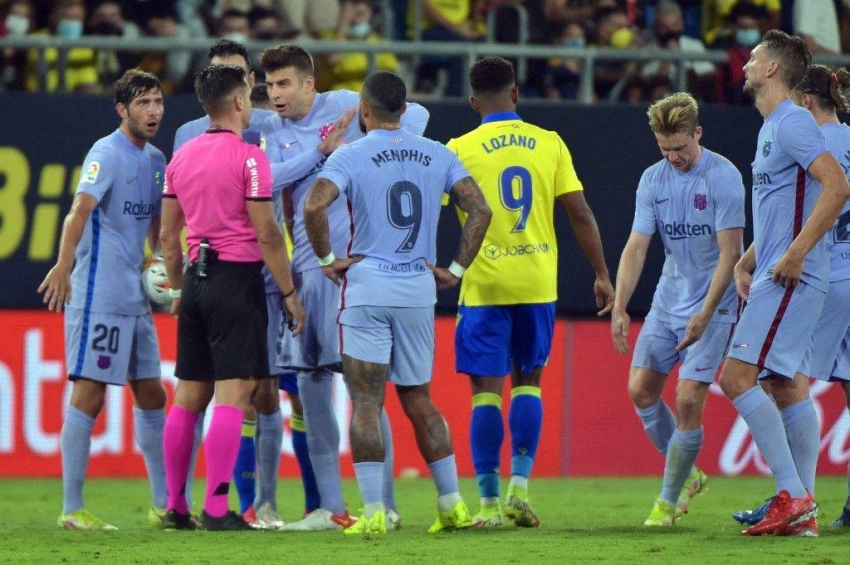 Barcelona continued to stumble, and was satisfied with a disappointing 0-0 draw with its host Cadiz, in the Spanish first division, Thursday, after its player, Frenkie de Jong, was sent off.
And Barcelona's suffering was exacerbated by the expulsion of coach Ronald Koeman in the last seconds, to object after Sergio Busquets hit a second ball on the field in the body of one of the Cadiz players.
The first half was modest, but things improved after the break. Marc-Andre ter Stegen saved a ball from Cadiz striker Alvaro Negredo, moments after the start of the second half.
Memphis Depay failed to reach Luke de Jong's cross in front of the empty goal. Barcelona's situation worsened by sending de Jong in the 65th minute, for obtaining a second warning four minutes after receiving the first.
Ronald Koeman's team will owe thanks to goalkeeper Ter Stegen, who saved an attempt by Salvi Sanchez from a solo situation, to bounce the ball to Ruben Sobrino, who threw the ball in front of the empty goal.
Depay missed the opportunity to seal Barcelona's victory in the fourth minute of stoppage time, when he threw a shot outside the goal after a kick from defender Gerard Pique.
Barcelona is in seventh place with nine points from five matches, while Cadiz is in 14th place with six points from six matches.