Al Owais saves Al-Akhdar from a heavy loss against Venezuela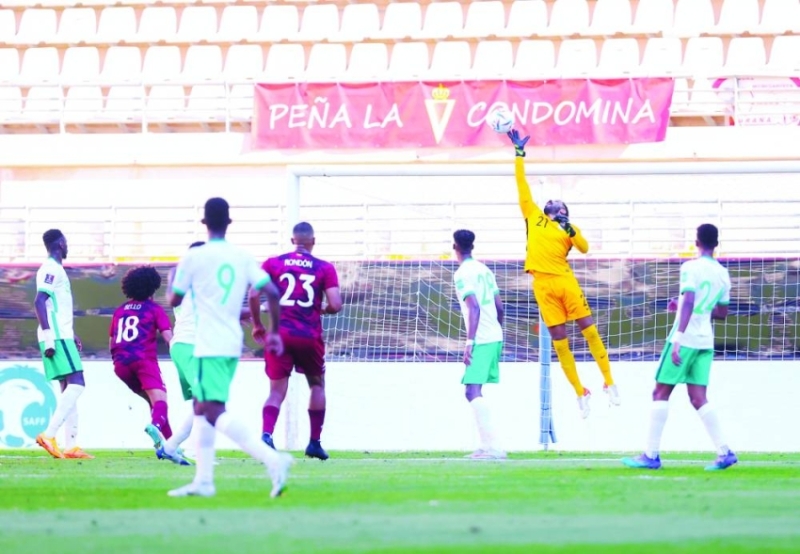 The first national football team lost its second friendly match against Venezuela, with a clean goal, at the end of the camp it held in Alicante, Spain, as part of the first phase of its preparations for Qatar 2022.
It is the team's second loss in the Spain camp, after the defeat by Colombia with the same result at the Nueva Condomina stadium in the Spanish city of Murcia.
The only goal of the match was scored by Nahuel Ferrari in the 37th minute after a wonderful save from Al Owais to Sutildo's header to find the follower Hanuel, who deposited the ball into the net without defensive harassment.
With his remarkable brilliance in this match, Al Owais played an important role in avoiding the loss with a heavy score, after bearing alone the burden of defensive errors and the ingenuity of Venezuela's strikers.
The match witnessed the absence of captain Salman Al-Faraj and Muhammad Al-Buraik with injuries.
And Herve Renard played in this match with a different squad than the Colombia match, with the exception of some players who participated in the previous match.
Venezuela dominated the first half and posed a serious danger with the team's retreat in its stadium. In the 37th minute, Venezuela scored the first goal through Nahuel Ferrari after a ball rebounded from Muhammad Al-Owais. The first half ended with the Venezuelan team advancing with a clean goal.
In the second half, the coaches' changes began, and Herve Renard made a number of substitutions to rest the players due to the hot weather in the match stadium. The result did not change as Al Owais continued to brilliance in defending his goal brilliantly.
While the most dangerous opportunity for our team came in the 77th minute through Abdullah Al-Hamdan, who extracted the ball from the Venezuelan defender and scored, but hit the goalkeeper's body, and after calculating 5 minutes of lost time, the referee announced the end of the match with Venezuela's victory with a clean goal.
.